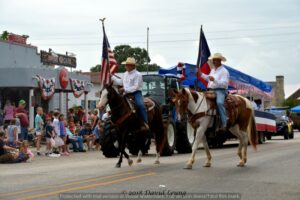 The Round Top community has celebrated the Fourth of July every year since 1851. In fact, it's known as the longest running Fourth of July celebration west of the Mississippi. The rest of the year, Round Top boasts an impressive population of 90 souls, many of German and Czech origin. But on the Fourth of July, our neighbors from Houston, Austin, San Antonio and everywhere in between travel into Round Top for a taste of an old-time, small-town Fourth.
The Parade
The parade will travel the historic route.  You can view the parade route here.
You can enter a float in the parade by visiting our Parade Registration Page.
Parade participants will be permitted to throw or hand out candy and trinkets along the route.
Many people will be watching from the yards in private homes along the route.  We ask everyone to respect property owners' markers and signage as they maintain a safe space for their guests.
The Meal
The Hall will be preparing a delicious dinner of BBQ chicken and smoked sausage with German potatoes and coleslaw.   Each meal will be $15 and be packaged and distributed in To Go containers.   Meal service will begin about 11:00 a.m., once the parade entries have left the Rifle Hall ground.   There will be seating for dining inside and outside the Hall.   Meals will be served until  about 1:30 p.m., or until we run out.
Hall members will also offer meat by the pound at the pit starting at 10:30 a.m.  All meat must be pre-ordered.   You can pre-order BBQ beef brisket, pork, chicken or sausage or bar-b-que chicken by calling (979) 249-7335.
An outdoor bar will serve beverages.   As in past years, all food and beverage purchases will be made with tickets in order to minimize the handling of cash.
Activities at the Rifle Hall
Music will be offered throughout the afternoon by the Round Top Brass Band, the Round Top Jam Session, and Cool Freddie and the Crew.   The Fourth of July Raffle Grand Prize is a $5,000 cash gift certificate.  The raffle drawing will be held as soon as all 1,500 tickets are sold – or at 2:00 p.m., whichever comes first.  A list of winners will be posted at the Hall and winners will be notified by phone or email.  You need not be present to win.