The encouragement of innocent out-door sports....
The original charter of the Round Top Schützen Verein was to be a sporting club for the "encouragement of innocent out-door sports, such as bicycle riding, target and trap shooting, open air athletics, games, dancing and others of like character." Of these different activities, only a few are still practiced; dancing and target shooting. The Rifle Association hosts many dances throughout the year. The primary event of the target shooting is the annual Schützenfest.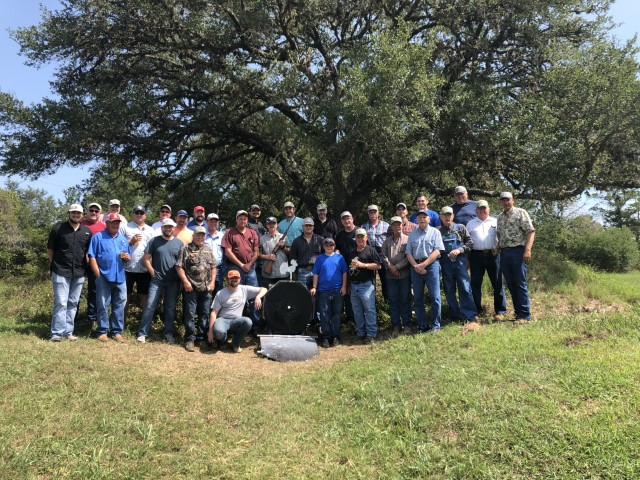 Shooting for the rooster
The festivities start with a social and meal for members and their immediate family held the night before. The Schützenfest, held the next morning, is a shooting contest that results in the crowning of the König (king), who is the member with the best score after several rounds of shooting.
The contest involves shooting .22 caliber rifles with open sites at a target that is 168 feet away. The goal is to hit a perfect bulls eye which results a score of 12 points, much harassment by fellow members and the satisfaction of seeing rooster pop up. The farther away your shot is from the bulls eye the lower the count towards your total score.  After a practice shot, each member shoots 3 times.  Those with a score of 29 or better advance to the next round.  Three shots are taken again.  Those tied with the highest score in the second round compete in a "shoot-off" to determine the Schützenkönig.
A cedar crown and a keg of beer....
That evening, the members and public gather for the crowning of the König, followed by several hours of dancing to the music of a local band. In preparation for the ceremony, the previous year's König makes a crown of cedar boughs.  At 6:00, the new König is escorted into the hall by a procession of all the members. Following his introduction to the crowd, he is crowned by the previous king. At that point, some members (usually youngest and strongest) hoist the new König into the air three times to the shouts of "Hoch sol er leben, hoch sol er leben, drei mal hoch".  The new König does have responsibilities though...  The first of which is to treat the RTRA members and their guests to a nice cold keg of beer!
A Community Celebration
The Round Top community gathers in support of the new King for a night of music, dancing and German beer.