We hope you enjoy these photos of the 170th Fourth of July Parade
As tradition has it, the parade celebration opens with a prayer and a few speeches from local politicians. 
And the cannon roared!  (sort of...)
A civil war-era restored cannon is fired to commence the parade.  Lots of smoke and fire, but the roar was more like a pop.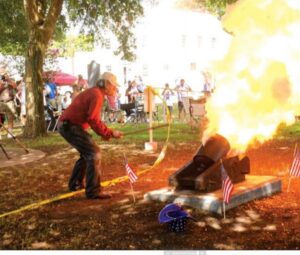 Thanks to the Fayette County Record for the above photo. 
Parade Entry Photos
Our thanks to several folks who contributed their pictures of the event:
David Leung - a talented photographer who is a member of the Lone Star Region Porsche Club of America, whose members stage a fabulous concourse of their beautiful cars in Round Top each year. 
Sharon Russo, Julie Wantland and Jane Wood - RTRA volunteers who snapped photos as the parade left the Rifle Association Hall grounds. 
If you click on one of the thumbnail pictures below, it will expand and allow you to click through the slideshow.