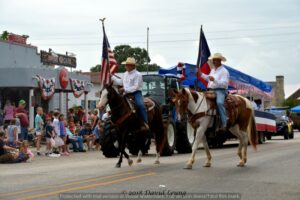 The Round Top community has celebrated the Fourth of July every year since 1851. In fact, it's known as the longest running Fourth of July celebration west of the Mississippi. The rest of the year, Round Top boasts an impressive population of 91 souls, many of German and Czech origin. But on the Fourth of July, our neighbors from Houston, Austin, San Antonio and everywhere in between travel into Round Top for a taste of an old-time, small-town Fourth.
Events of the Day
The civil war-era cannon roars at 10:30, announcing the parade of handmade floats, antique cars and tractors, fire engines, trail riders and longhorn cattle.  The parade circles Round Top square to the enthusiastic strains of Round Top's own Brass Band.  Children dart out for candy and trinkets while families and neighbors visit on the town square.
As the parade wraps up, everyone heads a few blocks down FM 1457 to the historic Round Top Rifle Hall. Association members have been up all night preparing mouthwatering brisket, pork, and sausage on the Hall's huge wood fired pits.  German style potatoes, green beans, fixin's, and homemade desserts round out a delicious buffet lunch.
The afternoon continues with music, a raffle, and games for the kids until 4:00 PM when the local band sets up for the afternoon's dance. Come join us for a fun-filled old fashioned Fourth!
The Parade
Floats, antique cars, trailriders, tractors welcome.
The 1.8 mile parade route starts at the Rifle Hall and winds its way through Round Top, returning to the Rifle Hall via a back entrance. A map of the parade route can be found here.
Parade Entry
Visit our Parade Registration page for more information.